Bring out your lawn chairs, blankets, and picnic blankets for this Huntington Beach tradition. The HB Concert Band hosts a free eleven-week series featuring various music groups performing various styles of music.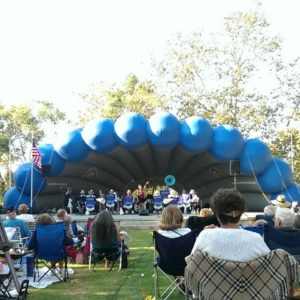 "Rotary Club of Huntington Beach"
for the Bandshell,
and to the
"Friends and Neighbors of Seacliff"
for the Bandstand
2020 Sunday in the Park Concerts
(Free dance lessons preceding the concerts marked with an *)
Date
Performing
Notes
28 Jun
Huntington Beach Concert Band & Coastal California Chorale
Under the direction of Dr. James Melton. "Salute to America" featuring great patriotic music
5 Jul
Navy Band Southwest Wind Ensemble
Selections from patriotic favorites, big band era, current pop, and country
12 Jul
Kelly Rae Band
Wide range of country ranging from the most current artists to chart-topping and classic favorites
19 Jul
Ginger & the Hoosier Daddys
Authentic and vintage music of the 1920's, 1930's, and 1940's *
26 Jul
Huntington Beach Concert Band
Special program directed by Colonel Thomas Rotondi (Ret.) of The U.S. Army Band "Pershing's Own."
2 Aug
Susie Hansen Latin Jazz
Dynamic and exciting Latin dance music: Salsa, cumbia, & more. Susie says, "We aim for the feet."
9 Aug
Moonlight Express Big Band
Authentic swing of the 30's, 40's, & 50's, "when good music was popular and popular music was good."
16 Aug
Bob DeSena Latin Jazz Band
Latin jazz in the tradition of Tito Puente and Cal Tjader, winner of the Los Angeles Music Award, "Jazz Artist of the Year" & Lifetime Achievement Award *
23 Aug
LA Symphonic Winds
Internationally acclaimed and led by founding directer Stephen Piazza Enjoy marches, show tunes, and their ever-popular "

Sound of Music Sing-along

."
30 Aug
The Wiseguys Big Band Machine
A blend of swing and jazz, Rat Pack style *
6 Sep
Huntington Beach Concert Band
An eclectic program of popular music from the past to the present
Download HBCB Summer Series 2020 Flyer and share!