The 2017 Summer Series has concluded. Check back next year for our 2018 schedule.
Bring out your lawn chairs, blankets, and picnic blankets for this Huntington Beach tradition. The HB Concert Band hosts a free eleven-week series featuring various music groups, like concert bands, Latin bands, and hot swinging big bands. Our 2018 Summer Series schedule will be released early next year.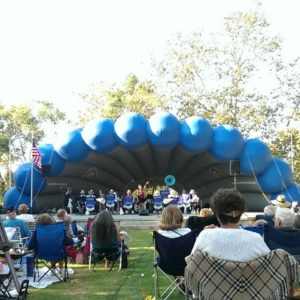 Asterisk denotes free dance lessons from 4:15 PM to 4:45 PM
June 25-SERIES PREMIERE
Huntington Beach Concert Band
Patriotic pastiche: music of America
July 2
Night Blooming Jazzmen
Traditional Dixieland Band
July 9
Golden West Pops
Popular music for a variety of tastes
July 16
Amanda Castro Band
Reimagines songs from the '20's to present in an upbeat and jazzy fashion for a crowd pleasing show
July 23
Huntington Beach Concert Band
Great music from the movies
July 30*
Jamie Wood and the Good Rockin Daddys
Local artists performing blues, vintage jazz, swing, and boogie-woogie
August 6*
Bob Desena
Exciting Latin jazz and fiery rhythms in the legendary tradition of Tito Puente and Cal Tjader, and winner of Los Angeles Music Awards "Jazz Artist of the Year"
August 13
Covina Concert Band
Eclectic mix of popular and patriotic music
August 20*
Huntington Beach Concert Band
Shall We Dance? Music for dancing with professional dancers from "Dance All You Can."
August 27*
The Wiseguys Big Band Machine
Blend of swing and jazz, Rat Pack style.
September 3*
Ginger & The Hoosier Daddys
Fun, authentic and vintage music of the 1920's, 1930's and 1940's