The Huntington Beach Concert Band has had the privilege of entertaining our community by sponsoring the Summer Series Concerts in the Park. Your attendance and support have made the concerts possible.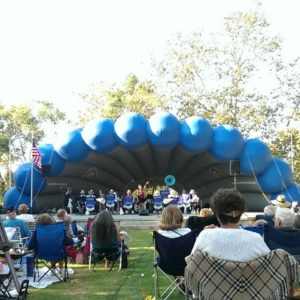 A special thank you to the"Rotary Club of Huntington Beach"
for the Bandshell, and to the "Friends and Neighbors of Seacliff" for the Bandstand
2022 Sunday in the Park Concerts
July 17 Moonlight Express Big Band ♫ Featuring authentic swing music of the 30's, 40's and 50's – "when good music was popular and popular music was good" *

July 24 Huntington Beach Concert Band ♫ Special program selected and directed by Colonel (Ret.) Thomas Rotondi of The U.S. Army Band "Pershing's Own" of Washington DC.

July 31 Navy Band Southwest Wind Ensemble ♫ Exceptional unit that performs extensively throughout the Southwest United States; selections range from patriotic favorites to the sounds of the big band era to hits by current pop and country artists.

August 7 The Wiseguys Big Band Machine ♫ Blend of swing and jazz, Rat Pack style.*

August 14 Golden West Pops ♫ Marches, show tunes, popular favorites and more.

August 21 Ginger & The Hoosier Daddys ♫ All-star dance band – fun, authentic and vintage music of the 1920's,1930's and 1940's.*
free dance lessons preceding the concert at 4:15 – wear your dancing shoes!
Please consider donating to the Sound Challenge
dedicated to improving the sound system at Summer Series concerts in the Park.
Click Here for more details.