(Updated 9/5/18)
Bring out your lawn chairs, blankets, and picnic blankets for this Huntington Beach tradition. The HB Concert Band hosts a free eleven-week series featuring various music groups performing various styles of music.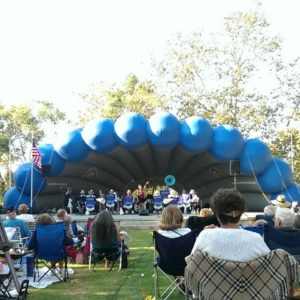 Jun 23
Huntington Beach Concert Band — "America Proud"
Jun 30
Night Blooming Jazzmen — Traditional Dixieland Band
Jul 7
Navy Band Southwest Wind Ensemble — Exceptional unit that performs extensively throughout the Southwest United States; selections that range from patriotic favorites to the sounds of the big band era to hits by current pop and country artists
Jul 14
 Kicks Big Band — Performs a cool mix of big band swing music and jazz favorites
Jul 21
Jamie Wood & the Good Rockin' Daddys — Local artists performing blues, vintage jazz, jump, swing, and boogie woogie*
Jul 28
Huntington Beach Concert Band — Side-by-Side concert with the talented local high school students featuring an eclectic range of musical styles
Aug 4
Kelly Rae Band — Plays as wide range of country music from the most current artists to chart-topping country tunes and classic favorites*
Aug 11
Golden West Pops — Popular music for a variety of musical tastes
Aug 18
Ginger & The Hoosier Daddys — Fun, authentic and vintage music of the 1920's, 1930's, and 1940's*
Aug 25
The Wiseguys Big Band Machine — Blend of swing and jazz, Rat Pack style*
Sep 1
Huntington Beach Concert Band — HBCB goes "POPS"; popular music from the past to the present
* Free dance lessons preceding concerts. Wear your dancing shoes!
Download HBCB Summer Series 2019 Flyer and share!